16.6.2008

Artist: Transistors
Title: Modern Landscape
Label: Funky Juice

Style: soul / funk / dance

Format: CD
Barcode: 8033162650228
Catalogue: FUJU123022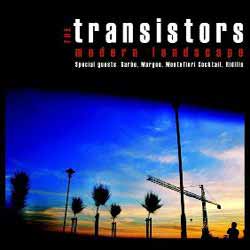 TRACKLIST:
01. Spirits and Visions
02. Last Train – featuring Garbo
03. Spiral Waltz
04. Bollywood Party
05. Brillo Box
06. Betty Boop Loves Tonga
07. LES ...more or less – featuring Montefiori Cocktail
08. Vulcano Girl
09. A passeggio per Milano – featuring Montefiori Cocktail
10. Nude Descending a Staircase
11. Paylove Syndicate - featuring Ridillo
12. Switched on Bob – featuring Margoo
13. Sun of a beach
14. Jellyfish Eyes
15. Between Akron and Düsseldorf
16. Stop Shoot Shock Shout
17. Re-Switched on Bob
18. Dynamism of a Cyclist

NOTE:


Modern Landscape è il secondo lavoro ufficiale di Luca "Luke" Cirillo, Maurizio "ErMan" Mansueti e Miss Ari (aka The Transistors).
A cinque anni di distanza da "Atelier", l'album di debutto che tanto aveva impressionato pubblico e critica, portando una ventata di freschezza nella scena lounge italiana, il gruppo romano si ripresenta al suo pubblico con Modern Landscape, un album più eterogeneo che spazia tra l'elettronica, la new wave sperimentale, atmosfere retro e cinematiche. Una piacevole conferma per questi pionieri della lounge che si avvlgono di molti artisti-amici ospiti da Garbo in "Last Train" ai Montefiori Cocktail in "Les more or less" e "A passeggio per Milano" dai Ridillo in "Paylove Syndicate" a Mangoo in "Switched on Bob". Un ritorno gradito che vi farà perdere, ad ogni ascolto, in mondi diversi.